Workshop on Cryptographic Hardware and Embedded Systems 2014 (CHES 2014)
Venue
Conference Venue: Paradise Hotel Busan
Address: 296, Haeundaehaebyeon-ro, Haeundae-gu, Busan, 612-010, Korea
Homepage: www.busanparadisehotel.co.kr
Email: res@paradisehotel.co.kr
Tel: +82-51-749-2111
Find "Paradise Hotel Busan" at google map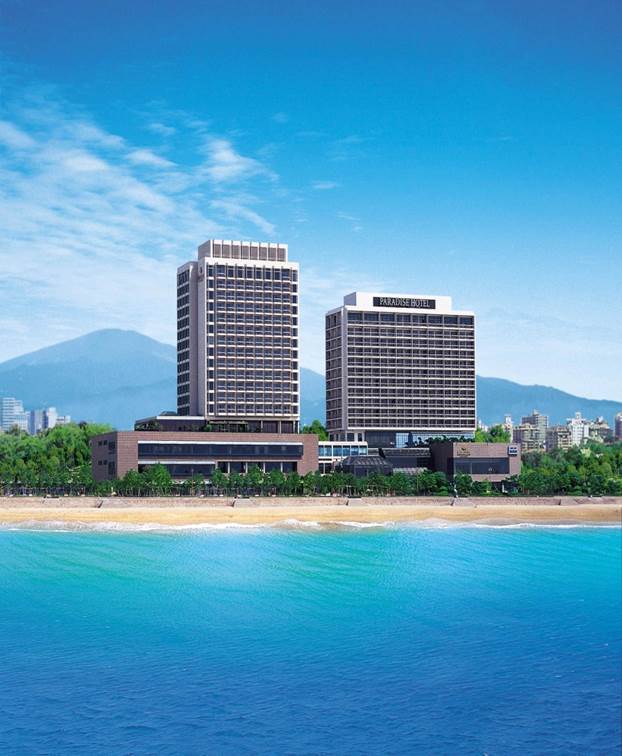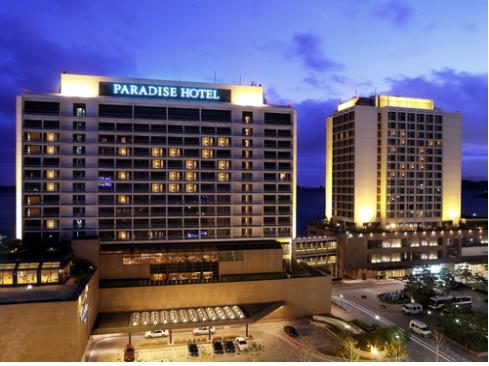 Floor plan
Most conference events will occur at the 2nd floor of main building.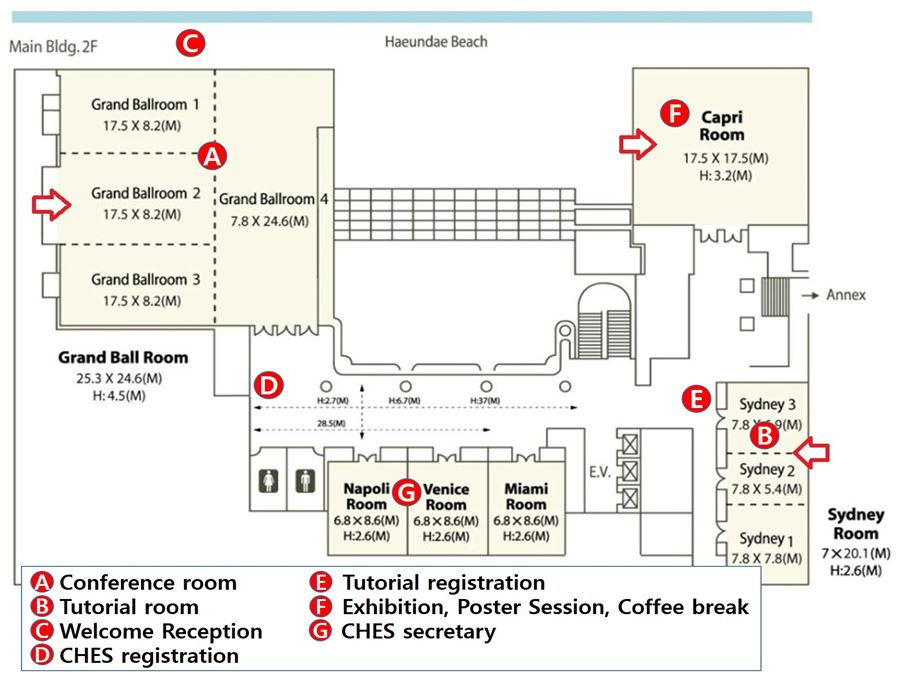 Conference schedule overview
This is the overview of conference schedule (events and places). More detailed schedule will be announced later.
CHES workshop will be held at the grand ballroom during 24-26.
There will be welcome reception at the beachside garden in the evening of 23.
CHES Tutorial program will be given at Sydney room on 23.
Exhibition and poster session will be provided at Capri room during 24-25.
FDTC workshop will be held at Capri room on 23.
PROOFS workshop will be held at Sydney room on 27.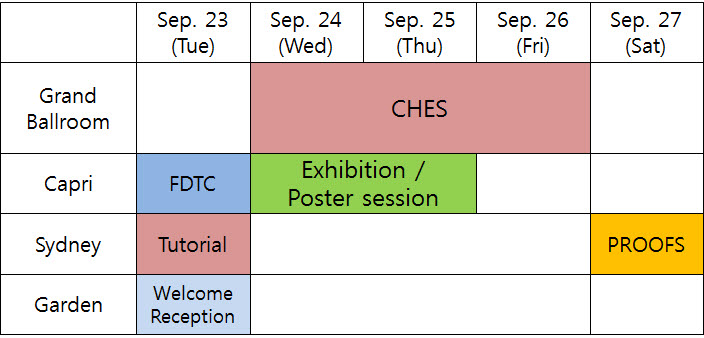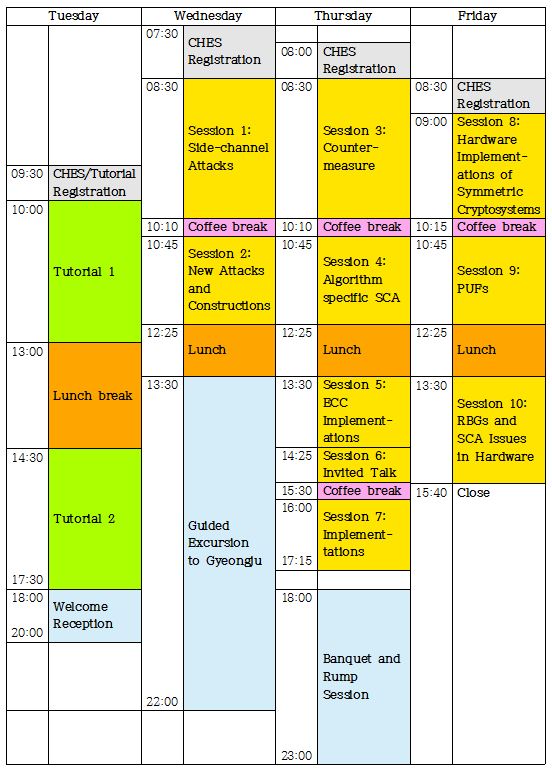 Exhibition and Poster
Exhibition will be prepared at Capri room during Sep.24-25. There are 6 participating companies (CRI, KONAI, ETRI, Riscure, Secure-IC, and KTC) who eager to show off their products.
Setup : from Sep. 24 (Wed.), 7:00 a.m.
Exhibition : 08:00-13:00, Sep. 24 / 08:00-18:00, Sep. 25
Removal : by Sep. 25 (Thur.), 20:00 p.m.
Posters will be displayed for two days (Sep. 24-25) at the same place, Capri room. Posters should be prepared in A0 portrait format (841(w) * 1189 mm (h)). There is no specific time slot for poster session, but participants are expected to visit and discuss freely during coffee break time. Authors of the poster session papers are needed to setup the poster before the first coffee break time, remove it after the final coffee break time, and stand by their posters during coffee break times (Poster session paper list).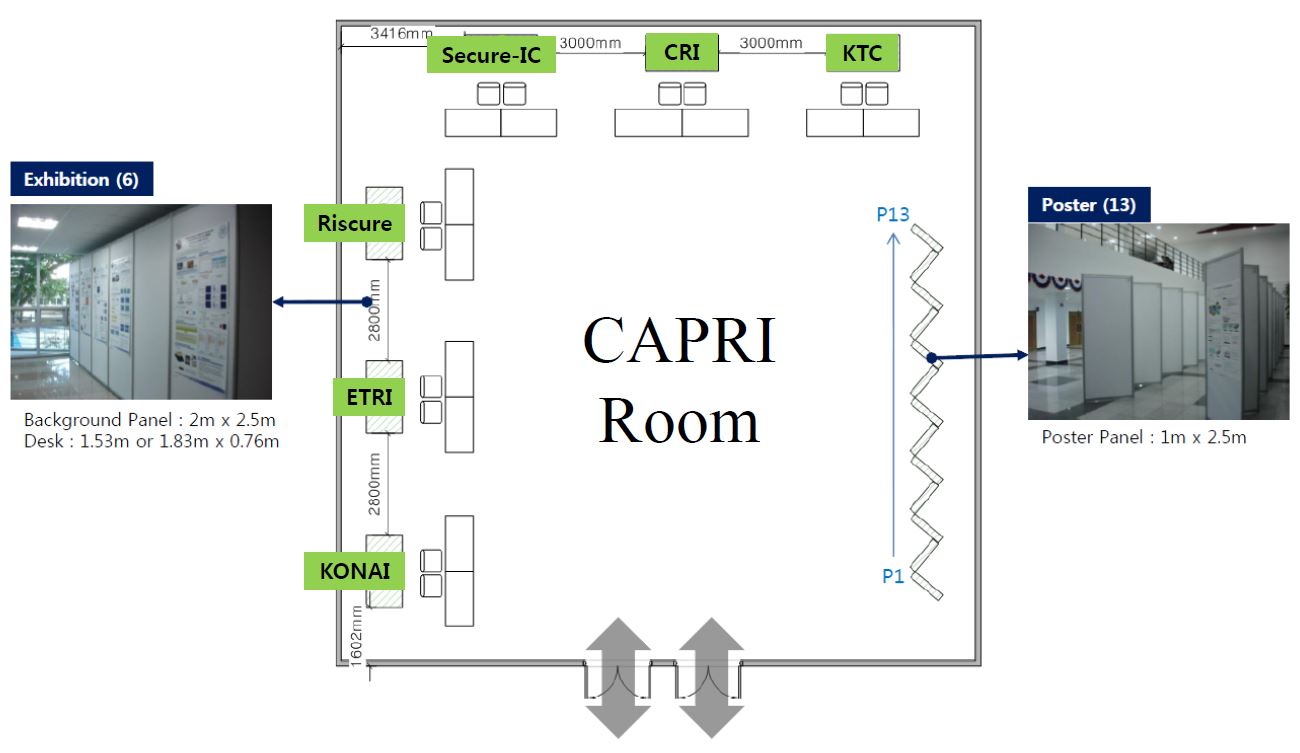 Contact information for exhibition and poster
Dooho Choi (ETRI), Tel : +82-10-4421-0763, E-mail : dhchoi@etri.re.kr
Dong-Guk Han (Kookmin Univ.), Tel : +82-10-9085-9743, E-mail : christa@kookmin.ac.kr
Lunch
During the conference days lunch will be organized at a premium buffet restaurant called "The Party" which is located in BF1 in the Paledecz hotel, very next building to the conference venue. Lunch hour is
Tuesday 12:25~13:40 (FDTC participants only)
Wensday, Thursday, Friday 12:25~13:30 (CHES participants)
Saterday 12:50~14:15 (PROOFS participants only)
Your lunch tickets are in your conference name tag. Please be sure to bring it along.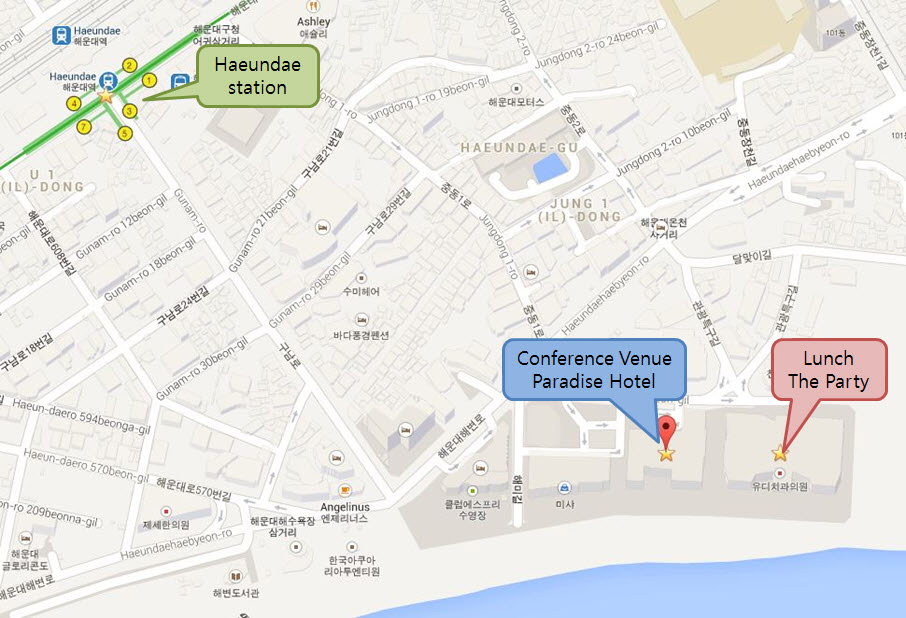 Nearby Restaurants in Haeundae
Korean cuisine
(A) The Sea Eel alley in Haeundae market
Sea Eels, seasoned with mildly hot spices, are still wriggling while being grilled over burning charcoal, in the alleys of Haeundae Market, where sea eel dished are supposed to have originated.
(B) Gogogi Kupbab street
Nearby the bus stop No. 31, you can enjoy Sogogi Kukbap (boiled rice in beef soup) or sunji kukbap (boiled rice in ox-blood soup) for only 3,500 KRW. There are plenty of crunch bean sprouts and beef in the spicy soup.
(C) Haeundae Samgyetang
Located near the Haeundae hot spring, Haeundae Samgyetang is soft and chewy native young chicken soup cooked with chestnuts, jujube, ginseng, sweet rice, and other ingredients.


International cuisine
(D) Outback steakhouse
This is an Autrailian-themed American casual dining restaurant chain, where steaks, seafood, burgers, salads and many more are served.
(E) Sector 510
This restaurant serves Italian pasta, pizza, burger, mojito, and many more delicious dishes.
(F) Brioche Doree
This chain serves an urban French cuisine with its unique Parisian style. You can find brunch and sandwiches with coffee.
(G) Spain club
This restaurant serves spanish cuisine like callos, pisto, and esqueixada with wine.
(H) Mercado Brazilian Steak House
You can enjoy eight kinds of Brazilian steak (Rump steak, Chicken Heart, Sirloin, Garlic steak, Chicken Leg, Butt and Rump, Sausage, and Beef bacon) with salad.
(I) Ganga Authentic Indian Cuisine
This restaurant serves Indian cuisine including Tandoori chicken, curry, and vegetarian dishes. You can also find some halal food here.
Fast food
(J) Burger King
(K) Lotteria
(L) Pizza Hut
(M) Buger and Pasta
Vegetarian cuisine
(N) Loving Hut
Vegetarians, from flexitarian to vegan, can all enjoy the organic vegan cuisine in this restaurant.
And, there are many more restaurants near the Haeundae Beach!